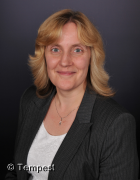 Paula Scattergood
Head Teacher
Welcome to Christ Church CE Primary Academy
We would like to thank-you for visiting our school website and hope you find the information useful.
You may be viewing our website as a parent or as a friend of our school. Whatever the reason, we hope you find that it tells you all you need to know. If it doesn't, please let us know! You are warmly welcomed to visit our school and find out more about us.
Staff work hard to make sure children are happy, well cared for and that they reach the highest standards possible. Our latest OFSTED report states that, "In corridors and on the playground pupils are polite, courteous and enjoy each other's company. They play well together on the playground and proudly report there is no bullying in school only some pupils who fall out now and again." We all want the best for our children and we know that children achieve more when parents and school work together. RESPECT, Endurance and Friendship is at the heart of everything we do at Christ Church CE Primary Academy.
If you would like any further information about our school, or wish to enquire about a school place for your child please do not hesitate to contact us.
If you would like a paper copy of any of the information published on this website (this would be provided free of charge) please contact us via the Contact tab or by visiting the school.  All queries about the school or the information provided on the website should be directed to Mrs Paula Scattergood, Head Teacher.